32 years of uninterrupted ease of use, power, beauty and excellence: Amiga Forever 7 closes the circle between gaming, productivity and preservation of digital culture while adding new features and providing access to a universe of free and legal downloads.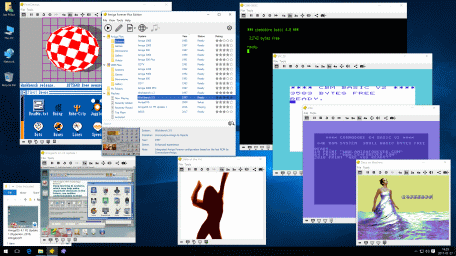 New features* in Amiga Forever 7:
New playlists, with ability to add custom content folders and to change the location of builtin Amiga Files
Option to autostart PC into favorite Amiga configuration (or CBM 8-bit, if C64 Forever is installed too)
Titles can be run from Windows File Explorer without opening the main Amiga Forever player, adding to previous playerless preview and editing capabilities
Enhanced PowerPC emulation features
General and title-specific game controller personalization, including support for Xbox, X-Arcade and I-PAC controllers, virtual buttons and arbitrary keyboard layouts
Additional input features: left-handed support, configurable autofire (also with separate fire) and merging of multiple game controllers and keyboard layouts into single emulated hardware
All systems support "Type Clipboard" and automatic Unicode-aware mapping of typed and pasted text, also when the PC and emulated Amiga keyboard layouts do not match
Improved high-DPI support and multi-monitor options
New and improved media features: pervasive RDB disk support, shared drives, deployable large disk images, etc.
Massively improved authoring and playback capabilities, as part of a project that reached more than 500,000 lines of code (not counting open source modules, in which we are active contributors as well)
Update checks are now over HTTPS (TLS) and are combined with digital signature verifications for enhanced integrity, confidentiality and security
Improved security sandbox
Numerous other new features and refinements (performance, audio, WHDLoad and AROS updates, Rescan, Build Image, dynamic warning triangles, new Facebook Graph API, visualization of RP9 manifest changes, etc.)
The Amiga computer, launched by Commodore in 1985, combined superior multimedia technology with ease of use, inspiring millions of the most creative and enthusiastic computer users ever.
Amiga Forever is the official Amiga emulator, preservation and support package brought to you by Cloanto, developers of Commodore/Amiga software since the 1980s.
Different editions of Amiga Forever blend high-quality software and original content with the ultimate set of videos to chronicle and let you experience firsthand the history, culture, challenges and passion behind the Amiga.
For making a purchase or reading more about Amiga Forever, please follow the link below: